Insurance Broker Tools
Finding good resources can be tricky. Luckily, there are a few Insurers and Underwriters who are developing tools, hubs and reports focused on empowering and equipping insurance brokers to improve how they operate. This is a smart move as insurance brokers form a key distribution channel for insurers and underwriters and so if brokers are more efficient and effective then insurers and underwriters can anticipate a lift in their business as well.
Dual Broker Toolbox
The Dual Broker Toolbox aims to equip insurance brokers when they are "At the office", "On the road" or "in a meeting". These three key areas are critical times for insurance brokers. The Dual Broker Toolbox has a curated list of third-party tools that insurance brokers can use to improve how they operate. Whilst these tools are not insurance broker specific, they can be very effectively applied by brokers to improve how they operate. Key tools suggested are: Hubspot - a leading CRM that enables lead management, customer relationships, workflows and marketing automation Evernote - a note-taking and storage application. Insurance Splash - A US based marketing agency focused on Insurance Brokers and here Dual link to a specific product, their ROI Client Calculator In addition, an internal product by Dual, WebRater - is a specialised online trading platform for insurance brokers.
Vero Broker Hub
Vero's dedicated Broker Hub brings together all their broker tools, reports and insights. It enables Brokers to quickly and easily connect into the Vero ecosystem One newer tool that Vero has developed is The Risk Profiler. The Risk Profiler has been developed to enable Insurance Brokers to better understand the risks that their clients face and compare these risks to other similar businesses.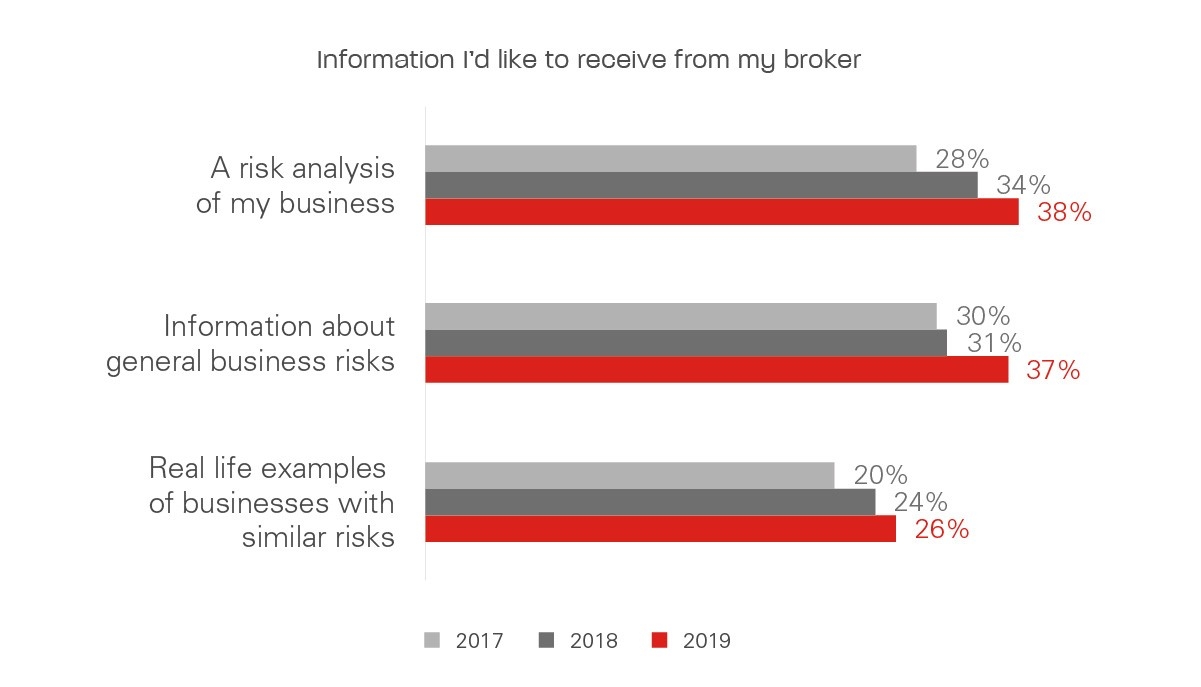 A recent report indicates that businesses are looking for more insights into the risks that they are facing and are looking to see some real-life examples of businesses with similar risks. Brokers can Register Here for access to The Vero Risk Profiler.
QBE SMEs and Insurance Report
QBE has released its SMEs and Insurance Report: A pulse check on risk trends for businesses. The report highlights the different types of Risk that businesses face and collates data from QBE claims over the past few years (2015-2019). The top five highest claiming sectors are: 1: Roofing services 2: Plumbing services 3: Laundries and drycleaners 4: Automotive repair and services 5: Automotive fuel retailing One area of interest is around how clients are seeking and finding advice about their business and finances. Only 14.6% of people turn to an Insurance Broker to provide their advice about business and finance, compared to 40.2% who look to self-research online. This presents a significant opportunity for Insurance Brokers to become a trusted source to clients. Read the QBE SME and Insurance Report.
These tools are just some of what is out there. So please share, what tools you are using to help grow your business and brokerage?
General Advice Warning: This advice is general and does not take into account your objectives, financial situation or needs. You should consider whether the advice is appropriate for you and your personal circumstances. Before you make any decision about whether to acquire a certain product, you should obtain and read the relevant product disclosure statement.
Andy Jamieson ABN : 17613588266
Advisr does not provide advice and does not hold a financial service license (AFSL). All information above has been provided by Andy Jamieson.
Like what you're reading? Subscribe to our top stories.
Follow us on LinkedIn, Facebook, and Twitter.